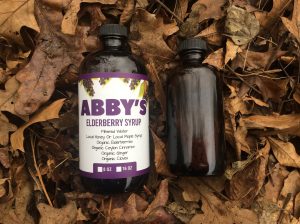 There are two ways to order Abby's elderberry syrups.  We have three varieties – original, infant friendly maple syrup, and low honey.  We can also custom make an order if you are willing to take 3 or more 16 ounce bottles.
Syrup comes in 8 ounce bottles for $15.99 and 16 ounce for $25.99
We also have elderberries and local raw honey available as well.
If you need to know more about the different types of syrup, please visit our Elderberry Syrup options page.